CERTIFIED HOME INSPECTOR LANSING MI
Starting a Maintenance Project or Remodel?
You Can't Afford to Skip a Licensed Home Inspection
A professional report from your certified inspector gives you the best possible negotiating position

Identification of major/minor expenditures keeps surprises from ruining your budget

 Knowledge of potential safety hazards allows you to fix them before anyone gets hurt, avoiding costly insurance bumps or lawsuits
identify system defects

show you structural defects

uncover safety issues

provide valuable information about home/building maintenance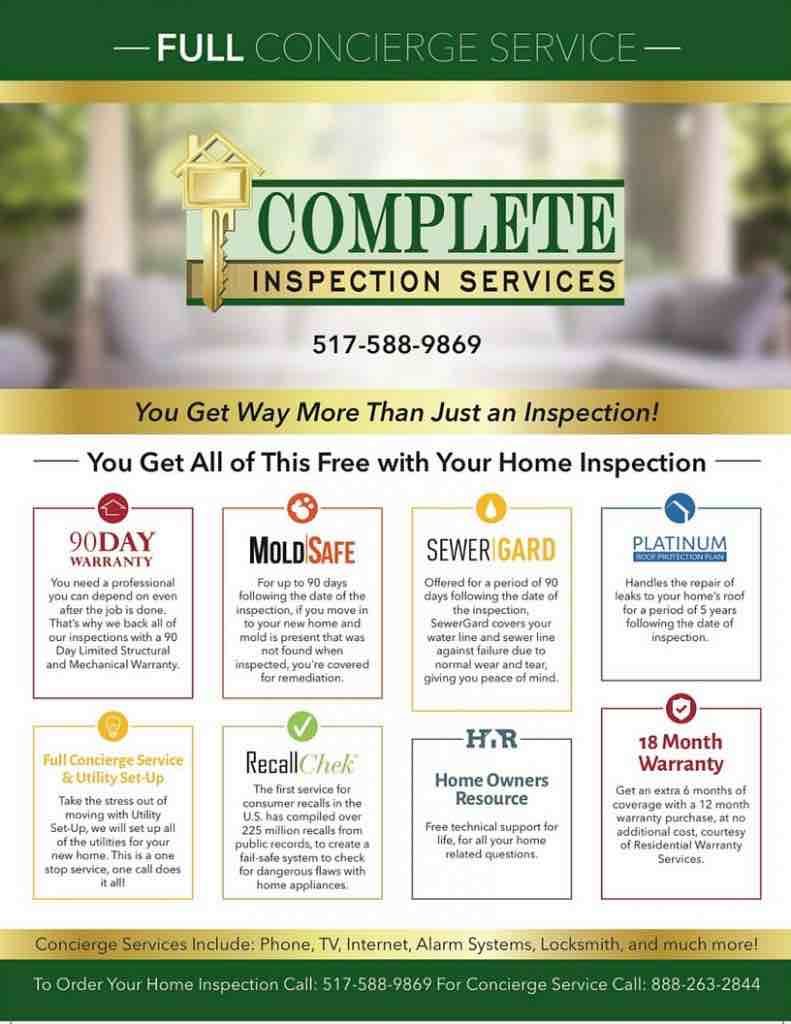 Your inspector should NOT comment on cost/market value or benefit from the repair/sale of the building
Michigan does not require home inspectors to be certified or licensed
Many uncertified inspectors are inexperienced because they are not full-time
Shop around and ask about experience and qualifications
For More Information or to set up an Appointment
Call us: (517) 588-9869
Complete Inspection Services are InterNACHI Certified Home Inspectors
Our Home Inspectors are InterNACHI Certified. Participation in the inspection process is extremely valuable for all clients. Opportunity to learn everything you need to know about the home's structure and systems before you buy or sell
Potential health effects and symptoms associated with mold exposures include allergic reactions, asthma and other respiratory complaints. Contact us for mold inspection services.


Let Us Find The Pests Before They Find You!
Different Pests Cause Different Types of Damage. Let Complete Inspection Services find the pests in your building and offer solutions for treatment before they find you!
Dan Provided a complete inspection of our soon to be new home and a radon test. He provided a detailed written report of his findings along with photos of problem areas. Dan and Bill were great! They took plenty of time to answer the many questions I had and both were very friendly. The inspection report was emailed to us only a few hours after the inspection was complete. It included over 40 photos with descriptions of areas that might by unsafe or need maintenance. The results of radon test were emailed a couple of days later. Dan also provided a 90-day warranty at no charge. I would definitely recommend Complete Inspection Services!
Primary Communities Served
Bath
Charlotte
Dansville
DeWitt
Dimondale
East Lansing
Eaton Rapids
Fowlerville
Grand Ledge
Haslett
Holt
Ionia
Laingsburg
Lansing
Mason
Okemos
Olivet
Owosso
Perry
Portland
Potterville
St Johns
Webberville
Williamston